Every New Kawasaki Road Bike comes with added value and benefits we call 'K-Pac'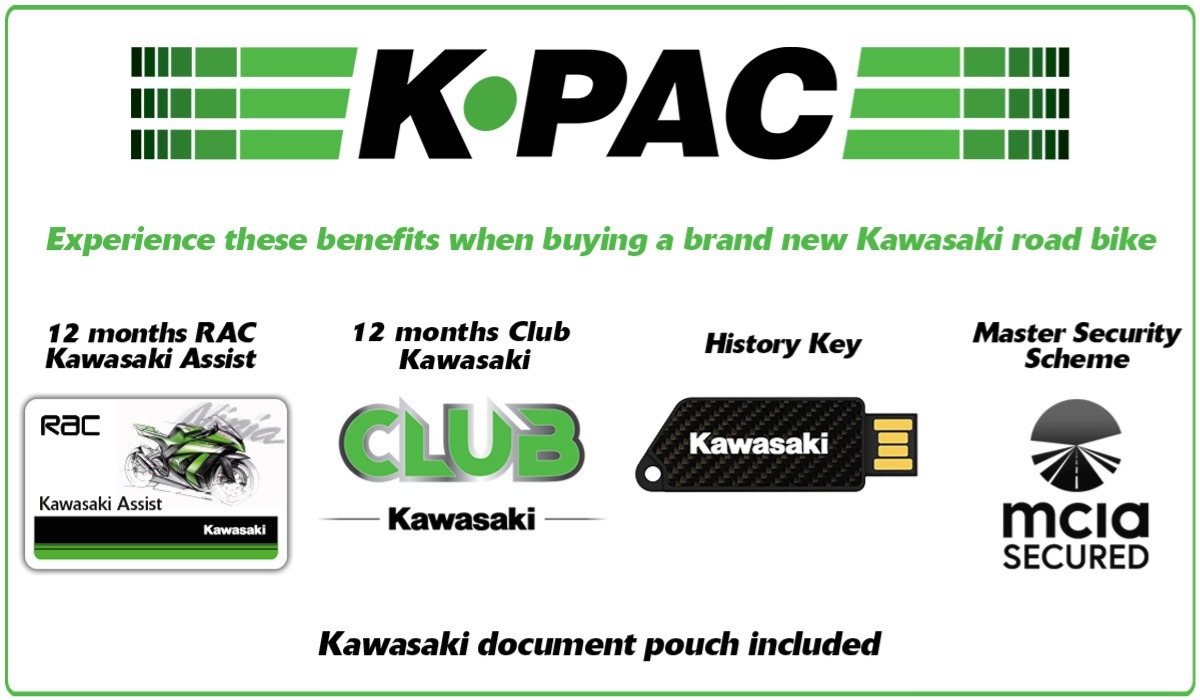 MASTER SCHEME SECURITY
As one of the very first adopters of an industry-wide security scheme, a whole variety of engine, chassis and bodywork parts will be invisibly marked on each new Kawasaki road motorcycle in a coordinated effort to dramatically reduce vehicle theft. Developed by the motorcycle security experts Datatag, the Master Security markings and transponders are invisible to the naked eye and supported with a subtle sticker on each marked machine designed to deter the would-be thief.
CLUB KAWASAKI
Be a part of a true biking community with twelve months free membership of the Club Kawasaki. Club Kawasaki provides two free high quality Club magazines per year, a dedicated members website, forum and a host of member benefits such as "The big annual event" where club members can enjoy a unique Kawasaki environment and get to meet their racing heroes plus other key Kawasaki personnel, exclusive discounts on products and Kawasaki / Virgin Experience days and VIP evenings.
KAWASAKI ASSIST
Kawasaki Assist is a Rescue service developed by Kawasaki and the RAC and has been designed to be as reliable as the motorcycles it supports, to give you peace of mind and help when you need it the most. Roadside assistance; comes as standard and means that we'll attend to your bike at the roadside anywhere
in the UK. Recovery; includes recovery of your bike to any UK destination or Kawasaki dealer. At Home; if you've broken down at home. Onward Travel; includes replacement vehicle for up to 48 hours, or overnight accommodation, or alternative travel costs covered if your bike can't be fixed at the roadside or by a Kawasaki dealer
DOCUMENT HANDOVER WALLET
Every customer is presented with a Neoprene Kawasaki Branded Document Wallet, so all your paper work and booklets can be stored in one safe place. Alternatively, the wallet also doubles as a very handy IPad case!

HISTORY KEY

The USB key fob device – which is believed to be unique in the motorcycle industry - has been designed to carry such essential information as the motorcycle service history, dealer and customer added notes and such useful facts as recall information. Activated via the internet as part of the process to initial Free membership of the Kawasaki Riders Club, the History Key is not intended to replace the hard copy service book but, to create an easy to access and updateable point of reference.